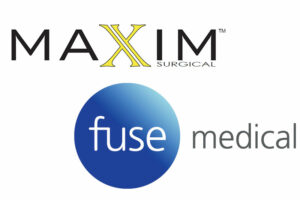 Fuse Medical, Inc. (OTC: FZMD) ("Fuse" or the "Company"), announced the completion of the acquisition of Palm Springs Partners, LLC d/b/a Maxim Surgical ("Maxim"), a manufacturing company in the spinal fusion device market and fullservice medical device and distribution company (the "Acquisition"). The effective date of Acquisition was August 1, 2018.
Formed in April 2011, Maxim designs and manufactures its own spinal interbody spacers and distributes a wide variety of spine, sports medicine, and biologics product lines. Inclusive in the Maxim portfolio of spinal implant products is the Maxim Surgical X-Treme Interbody Fusion System that previously received 510(k) clearance from the U.S. Food & Drug Administration ("FDA"). Maxim's long-term strategy is to bring more innovative spinal implant products to market for retail and wholesale distribution.
Management Commentary on Acquisition
Christopher C. Reeg, Chief Executive Officer of Fuse said, "We are very excited that Maxim has become part of the Fuse family. Maxim's portfolio of products bolsters our strategy of expanding Fuse into medical device design and manufacturing." "We believe that integrating Maxim with our operations will enhance Fuse's earnings immediately and allow us to be even better positioned to meet our customers' needs," added Mr. Reeg.